Cartell: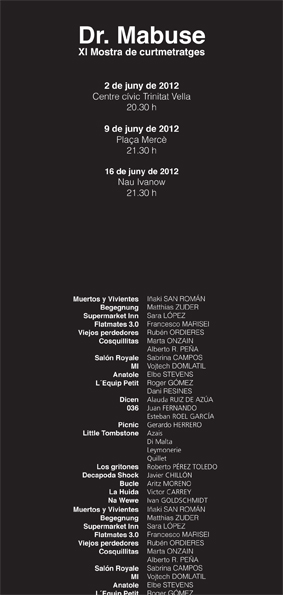 Curts projectats:
Centre Cívic de Trinitat Vella
Muertos y Vivientes de Iñaki San Román
Begegnung de Matthias Zuder
Supermarket Inn de Sara López
Flatmates 3.0 de Francesco Marisei
Viejos perdedores de Rubén Ordieres
Cosquillitas de Marta Onzain y Alberto R. Peña
Salon Royale de Sabrina Campos
MI de Vojtehc Domlatil
Anatole de Elbe Stevens
L´Equip Petit de Roger Gómez y Dani Resines
Plaça de la Mercè
Dicende Alauda Ruiz de Azúa
036 de Juan Fernando y Esteban Roel García
Picnic de Gerardo Herrero
Little Tombstone de Azais, Di Malta, Leymonerie y Quillet
Los gritones de Roberto Pérez Toledo
Decapoda Shock de Javier Chillón
Bucle de Aritz Moreno
La Huida de Victor Carrey
Na Wewe de Ivan Goldschmidt
Off Mabuse
Selecció de curtmetratges triomfadors en festivals de tot el món:
Acuse de recibo de Javi Meler (Espanya)
FOLDed de Surabhi Saraf (India/EEUU)
Le voile déchiré de Jean-Eudes Pokou (Costa de Marfil)
Gianni Schicchi de Francesco Visco (Italia)
Beware de What The Film! (Francia)
The Black Hole de Diamond Dogs (Phil &Olly) (Inglaterra)
Ángeles sin cielo de Victor Cuadrado (Espanya)
All.I.Can de Sherpas Cinema (EEUU)
Second hand de Isaac King (Canada)
Splitscreen a love story de James W. Griffiths (Anglaterra)
L'accordeur de Olivier Treiner (Francia)
Festa de Cloenda al finalitzar la sessió en la Nau Ivanow amb el grup Il Xef Malatesta.
Spots de la XI Mostra Dr Mabuse
En aquesta edició hem fet una promo per la Mostra de curtmetratges Dr. Mabuse 2012 amb tres fragments que mostren una mateixa acció quotidiana a través de tres gèneres cinematogràfics diferents: un Western al més pur estil Sergio Leone, un romantic flechazo i la petició de cafè més "Creepy" de Barcelona.